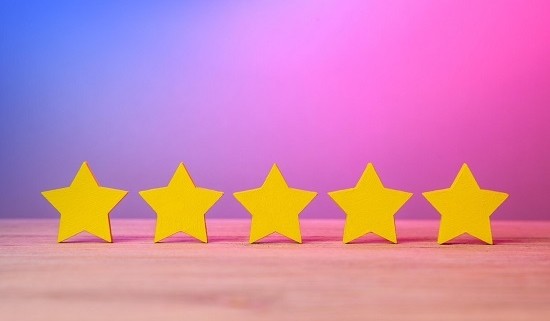 In our current times, most people will not pull the trigger on making a purchase, ordering a service, or having a medical procedure until they have fully vetted the goods or services via Google, Yelp, or Facebook reviews. This treasure trove of inside information about the reliability of quality outcomes has become ubiquitous in the consumer decision-making process. Positive reviews can actually serve as a free marketing tool to promote the advantages of a particular service or product. When introducing a new service or technology, reviews can help create a comfort level among prospective clients who might not have had familiarity with it.
Of course, negative reviews can quickly torpedo a fledgling product or service, so the prospect of negative reviews can act as motivation to provide only high quality goods and services. When a negative review is posted, it can serve as a teachable moment for the manufacturer or service provider to make needed improvements.
Positive patient reviews regarding a fairly recent entry into the treatment of major depressive disorder (MDD), called repetitive transcranial magnetic stimulation (rTMS), give credence to its efficacy. Having a safe and effective alternative treatment available is a boon to patients with MDD who did not experience relief with antidepressant therapy. Even multiple trials of antidepressants can fail to yield even minimal relief of depression symptoms, leading these treatment-resistant patients to feel frustrated and hopeless. The introduction of rTMS has helped thousands of individuals restore their quality of life, and the positive rTMS patient reviews convey just that.
About rTMS
Repetitive transcranial magnetic stimulation is a noninvasive neuromodulation, or brain stimulation, technology that uses magnetic energy similar to an MRI. Strong magnetic fields are delivered through the scalp to target the left prefrontal cortex of the brain where the limbic system is situated. This is the region that regulates mood, concentration, motivation, learning, and memory.
Repetitive magnetic pulses then induce electrical currents, which target the brain cells that have become underactive, a common trait among patients with depression. By stimulating this region, the brain chemistry is reset over a period of 4-6 weeks, resulting in reduction of depressive symptoms and improvements in mood, sleep quality, concentration, and energy levels.
The rTMS therapy sessions last about 40 minutes and the client is completely alert during the session. There is no recovery time needed, so after the treatment session the client is free to drive and resume all normal activities. rTMS is very well tolerated, with only mild side effects noted, including some scalp tenderness or headaches. These effects will dissipate over the course of treatments with no intervention needed.
Clinical Studies Show rTMS to be Safe and Effective for MDD
There are ongoing clinical trials designed to measure the results of utilizing rTMS for treating depression, as well as a number of other medical conditions and mental health disorders. Completed clinical studies have demonstrated the safety and efficacy of using rTMS for treating patients who had not responded to traditional antidepressant therapies.
One recent

clinical trial

, conducted at Brown University, collected data on 257 study participants during the rTMS treatment study period and then one year later.  The results were compelling, showing a 68% response rate and a 48% remission rate at one year.

A 2010 multisite sham-controlled

study

of 199 patients with MDD showed patients had a 4.2 times chance of attaining remission from the MDD using rTMS vs. sham.

A 2011

consensus review

pulled together numerous studies as evidence of the efficacy and safety of rTMS therapy for treating MDD
Global rTMS trials are currently underway to continue the study of this highly effective alternative treatment technique.
rTMS Patient Reviews on Yelp
Recent rTMS patient reviews posted on Yelp:
TMS saved my life. Or perhaps I saved my own life by taking a chance. Either way, I'm 29-years-old and I've been extremely depressed all my life, suicidal, hopeless, I felt worthless, and any dreams I had seemed far from possible. That day, I was simply calling down a list of psychiatrists in order to refill my medication when I called Anew. They pinpoint the very specific "emotion center" of the brain, on the left side by your temple, lean you back in a comfy chair while you watch whatever you want on Netflix, meditative videos, I watched The Office. It just clicked one day about a week or so before I finished the treatment and boom. It was on. It was working. I could (can) literally feel it humming, all warm and wonderful. Which I am now. Very happy. I finished a couple weeks ago now and they said I will continue to progress for the next three months. These people are like my family, they are angels and this treatment is a miracle. –  Joseph, Westminster, CA

This place is the answer to my depression. As difficult to live with, Anew Era TMS, is rebuilding my "happy cells".  I'm able to breathe and finally smile Again. –

Sapela, Huntington Beach, CA

I've gone through 30 sessions here (full treatment for me). It has been life-changing. My depression and anxiety stemming from chronic pain are in much better control, nearly in complete remission. I'm feeling like the person I knew was inside me is in charge again. All the staff are great people, from reception to the CEO. All my insurance issues were taken care of by them. It's a relaxing environment. I can't possibly recommend TMS and Anew Era TMS enough. Thank you!!!  – Sharon, Placentia, CA
Anew Era TMS Leading Provider of rTMS for Treating Depression
Anew Era TMS is an expert provider of rTMS for treatment-resistant patients with major depressive disorder. Anew Era TMS is dedicated to helping individuals in Southern California reclaim their lives by alleviating the debilitating symptoms of depression. rTMS has also been shown to treat anxiety disorders that co-exist with depression, such as PTSD and generalized anxiety disorder. For more information to learn if rTMS is for you, please contact Anew Era TMS today at (888) 503-1549.
https://aneweratms.com/wp-content/uploads/2018/08/rTMS-Patient-Reviews.jpg
366
550
Anew Era TMS
https://aneweratms.com/wp-content/uploads/2019/06/aneweratms_nulogo-300x167.png
Anew Era TMS
2018-08-10 16:45:04
2018-08-10 16:45:04
Anew Era rTMS Patient Reviews